Red Bandito
15"h x 13" w x 2.5"d
Fiber assemblage made with yarn, wired yarn, beads, pompons, elastic, felted balls, buttons done on a plastic grid mounted on yarn-wrapped stretchers.
2016
Gray Areas
29x24x4.5
Bath mat, fabric, beads, handmade paper and paper beads, wood, yarn, metal hooks, wood, Danish coaster
Mamoushka
31h x11w x4d
Piece of stained wood found in a clearance aisle, sewn and stuffed fabric, beads, yarn, re-used feather trim, silicone pot handle holders, handmade paper, buttons, hemp, embroidery floss, wire, metal hooks
Corpuscular
46 x22.5x6
Two cooling racks, found wood, bones, rocks, sewn and stuffed fabric, woven and wrapped yarn, hemp, paper spools, beads, handmade paper, paper beads, rubber bands, potpourri elements, floral elements, earplugs, wire, metal hooks
Margolit
8x10x1
Yarn, beads, minerals, fabric, embroidery floss, thread, buttons, plastic canvas, wire. Plastic canvas, woven, sewn, wired and beaded.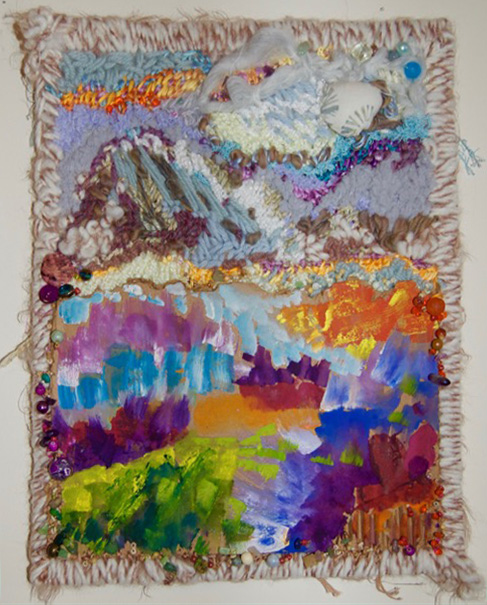 Mixed Mediascape
14x11x1/2
Acrylic painting on cardboard sewn to a plastic canvas and embroidered,woven, and beaded. Recently completed in a hotel room in Luxembourg.
Cardboard, acrylic paint, yarn, embroidery floss, beads, plastic canvas.
Jazz Club
21x13x3
Personal photo taken in a jazz club printed on silk, woven and embroidered plastic canvas, appliqued and stuffed fabric, wrapped yarn, beads, wire, metal hooks, vintage pin bought at a flea market in Germany
a whiteisawhiteisawhite
11"h x 30"w x 15" d
Assemblage of wood, wooden spool holder, paper, fabric and card board, mounted on wood and covered with a plastic bath mat. Objects connected with hardware, wire, twine, and thread.
2015
Red, White and Black
16x12x5
Vintage red box, yarn, cut straws, buttons, hair rollers, wire, fabric trim, buttons, beads, woven plastic canvas, yarn, wire, felt balls, pompoms, metal hooks
Crypto1
11.5x5.5x2
Open wood box, paper mache, rocks, wood, animal bones, acrylic paint, liquid glass, pottery shards, stuffed fabric
Crypto2
Open wooden box, animal bones, handmade paper and paper beads, beads, wood, pumice gel, paint, lint, wire, hemp, thread, yarn, trash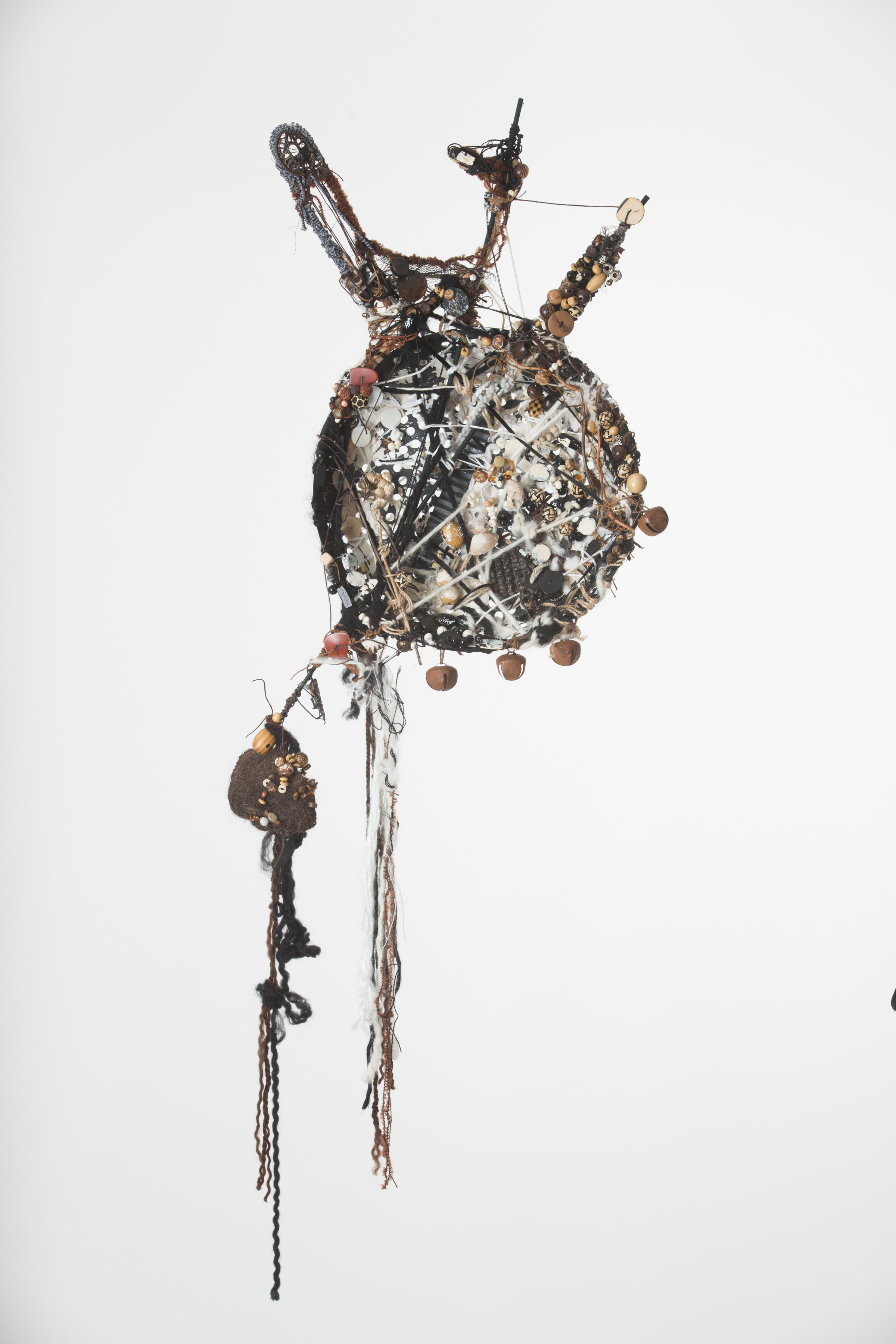 Griddle Pan Dreamcatcher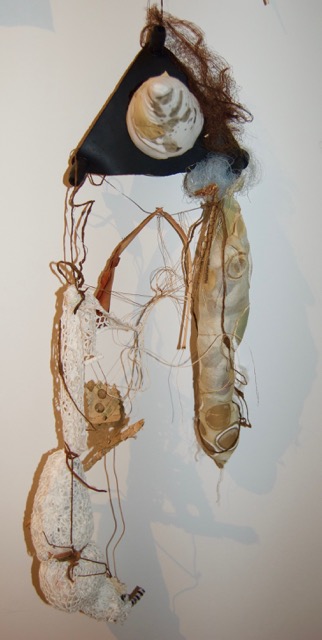 Wishbone
26x11x6
Triangular toilet tank gasket with hanging stuffed fabric shapes, paper, and fibers.
Rubber gasket, hairnet, twine, hemp, copper wire, copper thread, paper, found dried grass, trash.
Inflammatory Bowel
29x17x4
Small and large fabric intestines stuffed, sewn, embroidered, and suspended from a yarn-wrapped stick.
Ripped-up dress (bought for this project), nylon stockings, cheesecloth, yarn, hemp, wire, wood, styrofoam "buds."
Onion Skins
14x11x2
Original photo of onion skins printed on silk. Elements of this photo and other original photos are sewn and stuffed as are coordinating fabrics. Shapes are embroidered, woven, and beaded onto a plastic canvas. Recently completed in a hotel room in Luxembourg.
Silk, original photos, fabric, yarn, embroidery floss, buttons, beads, mother-of-pearl, plastic canvas.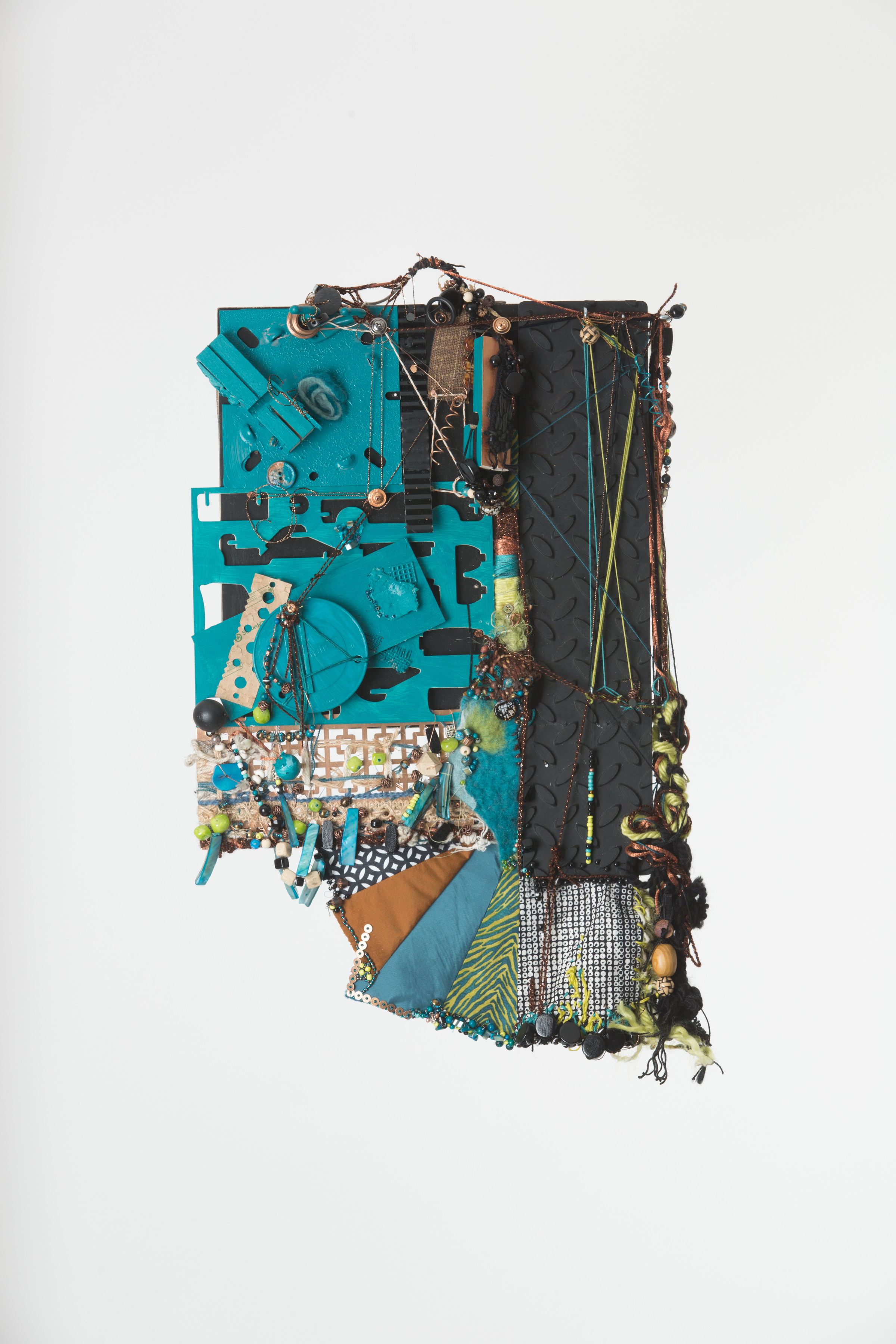 Motherboarding
23"h x 15"w x 1.5"d
Wooden relief made of hardware, wood, copper, fabric, beads, yarn, jar lid, metal hook, plastic grid, wire, acrylic paint, jar lid, copper screen, wire, embroidery thread, buttons, painted screws.
2016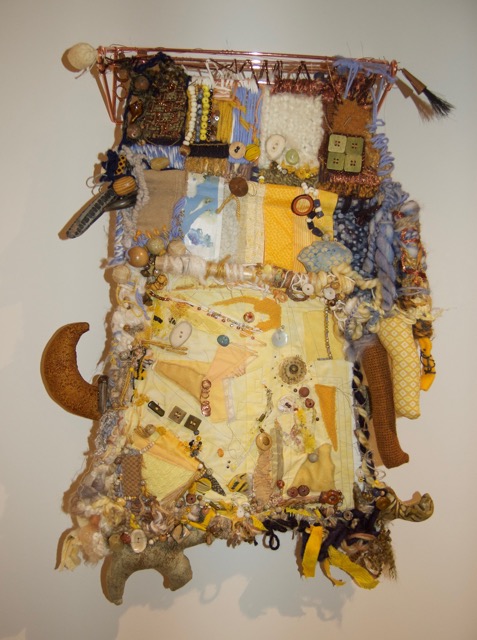 Bumble Bee Jasper
27x19x5
Yellow cotton, machine-pieced, decoratively sewn, and mounted on aida cross-stitch fabric. This is then enhanced with fiber-collage elements – some stuffed – embroidery, weaving, and beading. The piece is then suspended from a copper paper towel holder.
Aida fabric, cotton, wool, textured pantyhose, waxed paper, paint, buttons, horn, beads, horsehair, wire, embroidery floss, yarn and, of course, a piece of BumbleBee Jasper.
Morin Khuur/Mongolian Stringed Instrument
33x21x4
Acrylic painting on canvas that has gone through three evolutions. The original painting dates from 2014. It was then collaged and beaded. The woven, embroidered, and stuffed fabric components are recent. It kept morphing until it reached it present proportions of balance and excitement.
Paradise Trashed
12"h x 12" w
Acrylic on machine-sewn paper with pasted cut paper, fabric, and hand-sewn embroidery floss and gauze.
2014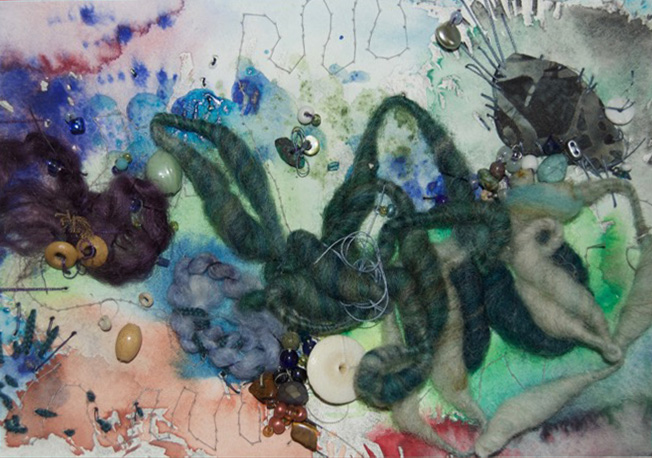 Georgia On My Mind (O'Keeffe)
5x7
This started as a watercolor on paper that I painted in Luxembourg in 2015. It wasn't a favorite… so I felt free to experiment. I machine sewed a pattern and took off from there by hand sewing the usual suspects: yarn, fabric, embroidery floss, and beads. It reminded me of O'Keeffe's early watercolor landscapes; she is one of my favorite artists.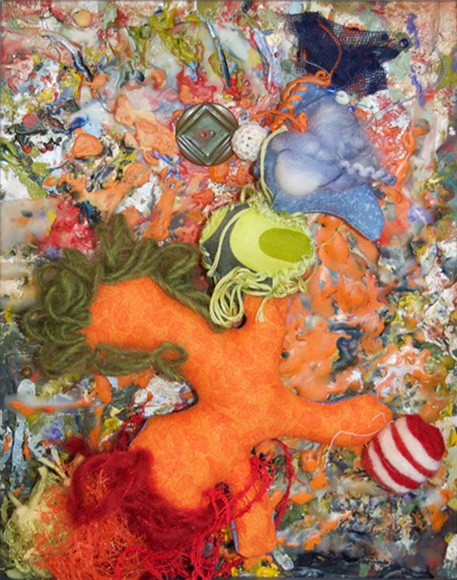 Goulash
8x10
This is another piece that has gone through a number of mutations. It started as an encaustic on encaustic board. It was done at a workshop at R & F Paints in Kingston, NY. This was my first stab at the medium and I was less than pleased with the result. Of course, the benefit of this predicament is that you don't care if you ruin what you originally had. This gave me the freedom to take it to the limits… and beyond. I added stuffed fabric pieces, different textures of yarn, lace, and a striped pompom. Whenever I look at it, it makes me smile; that's a job well done.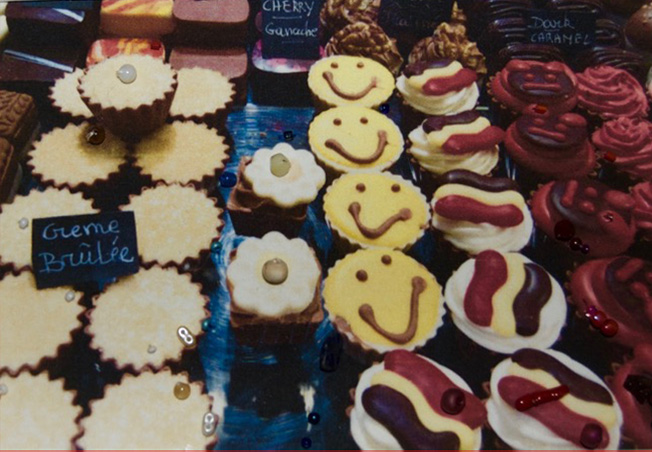 Patisserie Belgique
5x7x1/4
Original photo printed on cotton with subtle beading.
Cotton, beads, photograph taken in Brussels.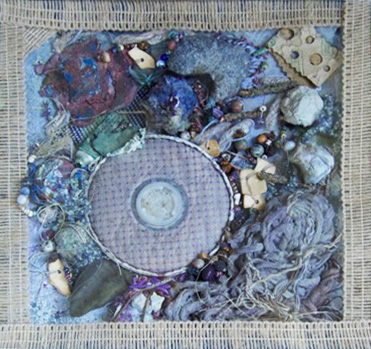 Time Being
10x10
This piece is a totem for me. Making it felt like alchemy. At the time, I was in a papermaking period, making lots of paper slurry in different colors as components for different projects. I most often made "slurry beads." This piece is made of slurry beads and "slurried" yarn. I call it "slurry" because it's a concoction of paper, water, paste, and pigment. It has lots of handmade paper, beads, and fabric. I found the circular object when walking on a beach along the Hudson; I do not know what it is; I do know I was meant to find it. I named the piece after reading Ruth Ozeki's "A Tale for the Time Being."
Hand-sprayed mixed media paper with slurry, slurry beads, slurried yarn, stuffed fabric, handmade paper, beads, yarn, empty watercolor tube, twine, paper trash, twig, and mysterious found object.
Purple Loop
58"h x 27"w x 3"d
Machine, hand-sewn, embroidered and woven fabric collage on a rag rug, mounted with copper hardware, and made with torn fabric strips, cut fabric shapes, yarn, twine, beads, hand painted beads, fishing net, embroidery floss.
2014
Bloodflowers
81"h x 55"w x 7"d
Hand- and machine-sewn fabric on rag rug, using photos of child soldiers printed on silk and cotton, embroidered and woven with materials including wood, loofa slices, beads, twine, and fake flowers.
2015
Amok
8x10
Amok is a mostly traditional paper collage. It was the product of disgust and despair after a period of paying attention to world events. I made it with saved scraps that I found evocative and provocative. I think that chaos (explored in this piece) is reality; we can only learn to accept and manage it the best we can.
Eagle Scout
58"h x 27"w x 2"d
Fabric collage on Japanese fabric with wrapped yarn, tree branches, twigs, buttons, twine, embroidery floss, dried acrylic paint.
2014
French Flea Market
80"h x 36"w x 7"d
Stretched canvas collage with dish drainer, cleaning brush, plastic chain, plastic bottles, spools, hair rollers, cosmetic puffs, twine, yarn, fishing net, hardware, wood, buttons, beads, wire, screen, net, sponge.
2014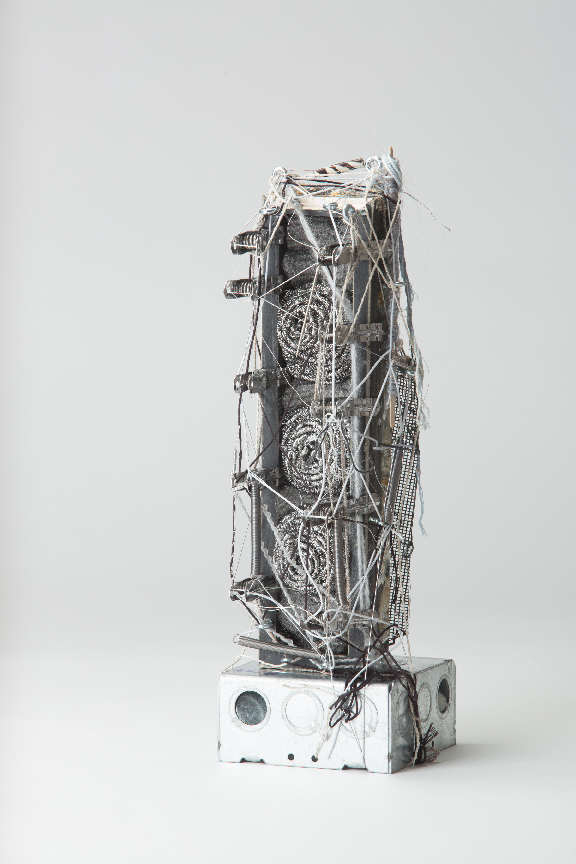 Well Webbed
15" h x 7"w x 5" d
Metal construction built on wooden box using a circuit box, wire, steel wool, metal clips, twine, mesh, springs, acrylic paint.
2015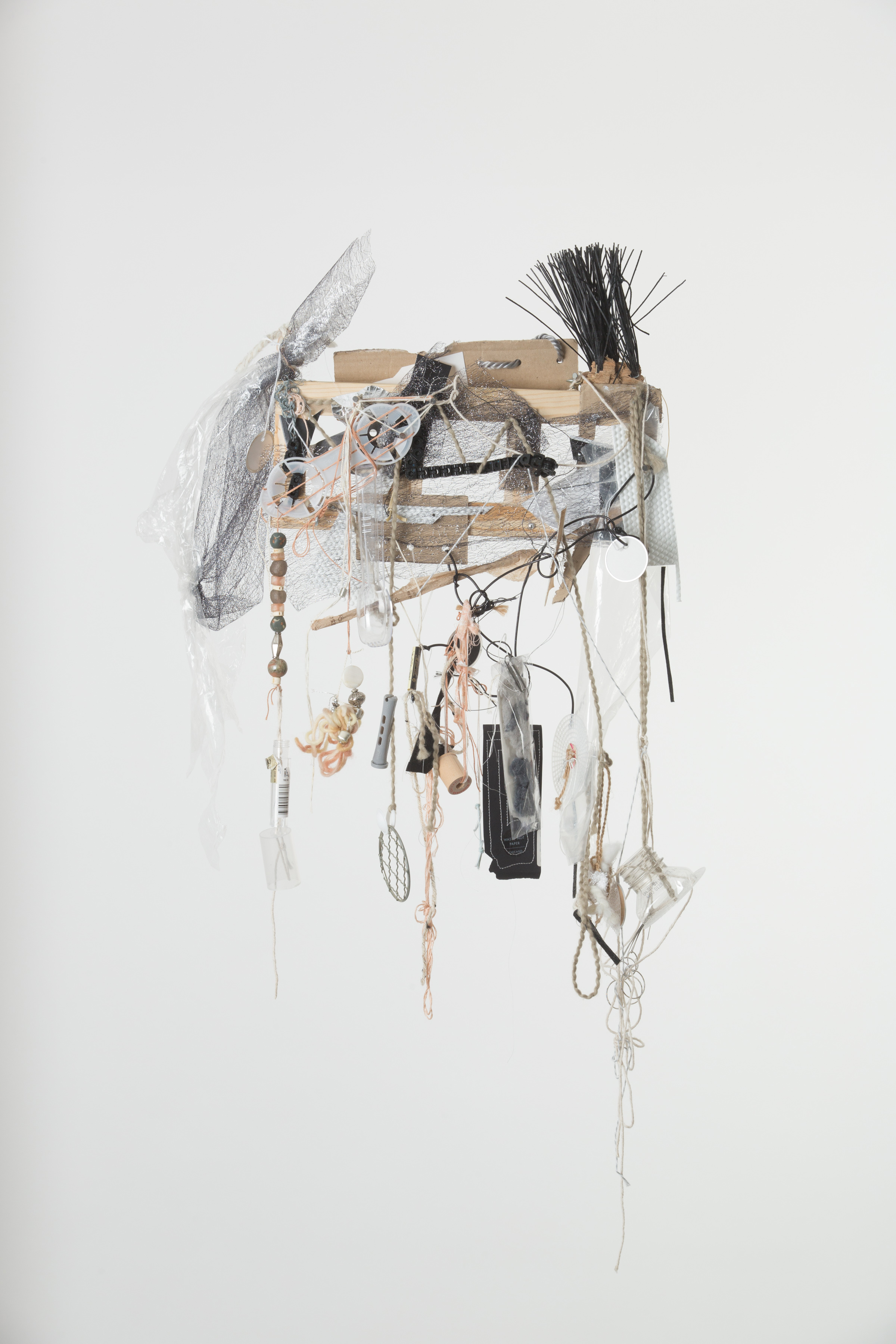 Things That Mesh
31"h x 19"w x 4"d
Assemblage of hanging wood, plastic, plastic wrap, plastic tubes, netting, fabric strips, yarn and scavenged industrial broom fragment.
2014
Black Mamba
7.5"h x 7"w x6.5" d
Assemblage on wooden box with wood scraps from Habitat for Humanity project, paper, wool, beads, buttons, twine, plastic, wire mesh, acrylic paint.
2015
Bridge Down Umber
30"h x 36"w x 8"d
Found wood "span" attached by purse holders onto two assembled wood block supports, collaged with fabric, cardboard, yarn and buttons. All wood painted in matte or gloss umber. Crisscross suspension of florist supply branch and found branch.
2015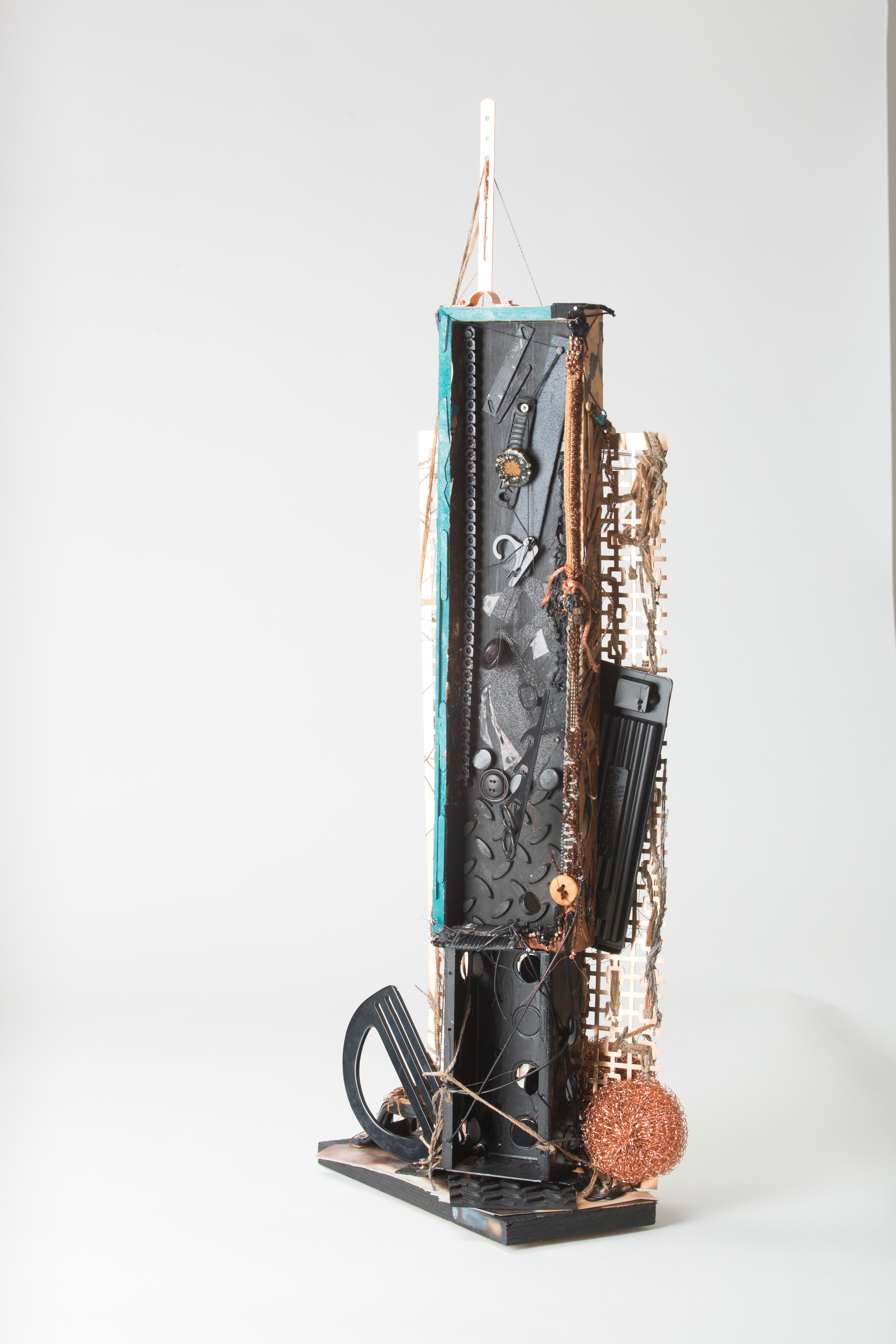 Think Positive/Apple Corer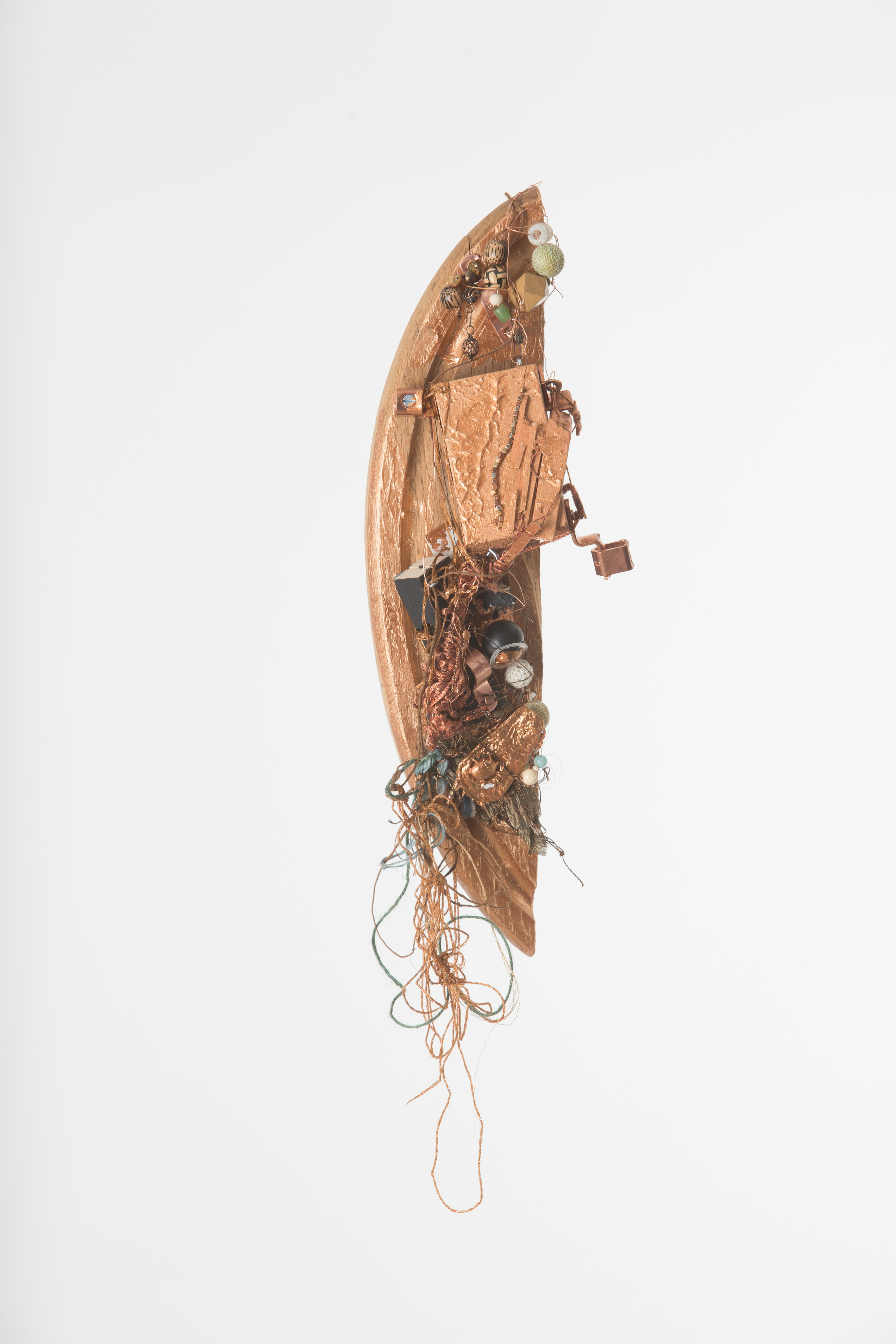 Whispering Copper
25"h x 8"w x 4.5"d
Assemblage on a broken wood cutting board , using metal, hardware, vintage brooch, beads, twine, embroidery floss, fabric, plastic and wire.
2015
Klopsiki Park
11.5"h x 8.5"w x 3.5" d
Part of a wooden dish drainer, with dowels wrapped in yarn, twine, fabric, balloon, and wire mesh. Vintage bracelet (with price tag) loops around the structure.
2015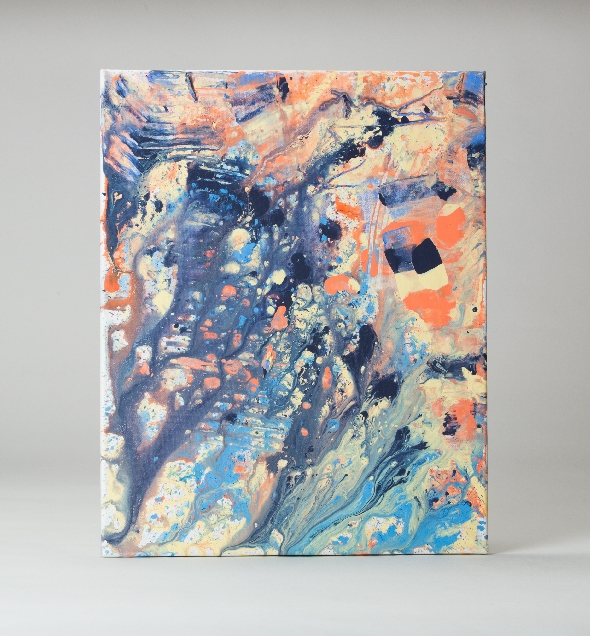 Homage to Childe Hassam
20"h x 16"w
Acrylic on canvas.
2013
Reeds-on-Hudson
12'h x 12" w
Watercolor, acrylic, and ink on layered watercolor paper.
2013
Go To Home
37"h x 57"w
Acrylic painting/s on sewn cotton and fabric panels, integrated with embroidery and cut fabric shapes.
2014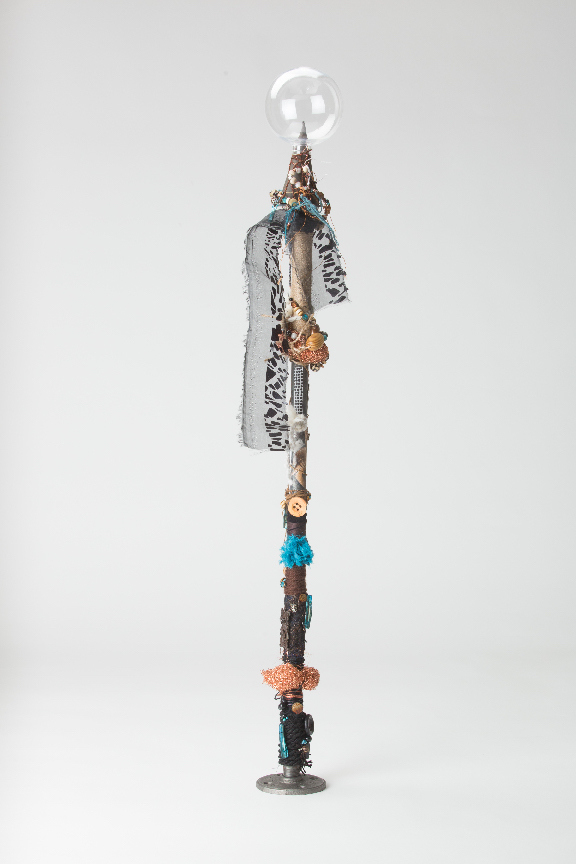 On Second Thought
35"h x 7"w x 3"d
Metal pole wrapped with twine, fabric trim, copper scrubbers, yarn, beads, paper cutouts, buttons and wire and topped with a plastic globe.
2015